Testimonies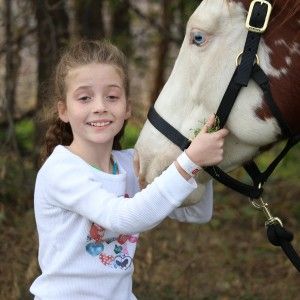 "We had a Dr. appointment today and Rachel told him one of her favorite things to do is to ride horses. He told her to keep it up! He said next to people who run, people who ride horses have some of the highest lung functions and health!!! Going to figure out a way to get this girl riding more often, and through the winter." -Tiffany Leaders
–This was a message we received from a mother who's 8 year old daughter takes riding lessons with us and has Cystic Fibrosis.
---
Volunteer testimonies
My passion has always been horses ever since I was little.  As my son grew older, I started thinking that I need to find something to fill my time for when he leaves home to go to college, and felt it needed to involve working with horses.
I met Tony and JoDee at a benefit car show for Veterans that we were participating in. They had a booth there for Horses 4 Heroes and Victory Riding Academy where I learned about their mission – and it included horses. I have deep respect for those that serve. My Dad is a retired professional Omaha Firefighter of over 30 years. My grandpa and uncles served in the Korean War and Viet Nam.
A week or so later, I went to an open house at VRA and I signed up to volunteer, that was 3 years ago now. I've grown and learned so much volunteering there, and in the process made some really wonderful friends. Everyone at VRA has become like family. Tony and JoDee's heartfelt passion to give back to those that serve is contagious and genuine. Horses heal and bring the best out in everyone. Finding something with horses to 'fill my time' happened a lot sooner than I thought. Being a part of VRA has turned into so much more and I am grateful for that.
Tina Karstens
---
Life before victory riding academy
I would say life before VRA was very tense. My husband worked weird hours. He would work 4am to noon or 1 o'clock. Come home eat and sleep. Always crabby. Me, I was taking care of the kids. Getting kids up for school, running them to practice for sports, concerts, meetings, church, etc. I would describe to my friends as yes I'm married however I'm a single mom at the same time. Always the one to go to parent teacher conferences by myself, going to church with the kids most of the time by my self. I was ready to give up and through in the towel on our marriage. We did this for over eight years straight. Until December 14, 2015. When my son asked my husband if he was going to be home for Christmas? My husband replied no buddy I have to work. My son responded with, that's okay daddy we are used to you not being there for the important stuff. That hit my husband really hard. Made him think, that he didn't know his family and our routine. He went to work the next day and resigned that day effective immediately. So we took a leap of faith. He was finely home for Christmas. Our girls started getting more involved with the church, started confirmation. That was the beginning of our new adventure. Take another leap of faith. Then our oldest daughter got selected for national junior honor society. She needed volunteer hours for it. My husband and his best friend were out and about when they ran into Tony who helps run VRA. They all talked and were going to have an orientation soon. Knowing our daughter loved horses and need the hours for njhs we thought what better way to help out and we can do it as a family. So April 4th of 2016 we took another leap of faith and start to volunteer at victory riding academy. From that day on we had a new "family" other volunteers at VRA welcomed us. Both my husband and I didn't realize how much of a mess we were and the kids were. Married for almost 15 years and didn't really know each other. Volunteering at VRA has helped our marriage and family grow strong in love, faith, and family. I didn't know working with the horses would open my eyes and help show me whom I really am, that I'm more than just a mom, more than just a female, more than just a wife. Volunteering for VRA has shown me how to be a better person, be a better partner, be a better mom, just all around be better. It has shown my husband the same thing, how to be a better father, partner, all around better person. Being a volunteer has also shown our kids how to trust, how to be better to themselves and to others. We are stronger now than ever and we owe it to Victory Riding Academy. VRA save our family and marriage. This September we will be celebrating 14 years of marriage and I feel like we have grown stronger and finely know each other the way we should, and be a family.
Jenn and Dereck
---
When I first heard about Victory Riding Academy, I simply saw an opportunity to pair my love for horses with my desire to give back to our military, police, fire, and first responders. I never honestly expected what would happen next. Tony and Jodee Barnes, along with other volunteers (and horses) welcomed me with open arms from the first moment I stepped on property. They have all shown me time and again that VRA is not just a group of volunteers. It is a family of some of the best people I have ever had the pleasure of knowing.
Nearly two years later, it has become difficult to remember a time when VRA wasn't an integral part of my life. Through both the most challenging and most amazing times of my life, I've known that I can always count on my VRA family to be right by my side. It's amazing to be even a small part of such a special place. This volunteer staff has hearts of gold, a spirit of giving, and an unparalleled dedication to ensuring that the mission is carried out at all costs. Though I started this journey as a way to give back, time has shown me that I could never give enough to make up for all that I have received.
To Tony, Jodee, and each of my fellow volunteers at VRA, all I can possibly say is thank you.  I am humbled, honored, and truly blessed to have each of you in my life, and look forward to many more years serving side by side with you.
God Bless.
Erik E. Svensson
---
"Last Spring, every Saturday I went to Victory Riding Academy and cleaned pens with my mom.  Every day I was sweating; I didn't want to do it, but I felt really good about myself when we were done!  The pens looked so good afterwards!" -Cooper age 7
-Cooper is one of our youngest volunteers who comes with his Mom.