Your gifts, both large and small, will help us to achieve our mission of helping those affected by our cause.
Thank you in advance for your generous support that allows us to make a difference in the lives of those who have and are serving our communities and country.  
If you have a PayPal account and would like to give through the PayPal Giving fund, where 100% of your donation goes to VRA, please click the PayPal Giving Fund logo.   
Click on Network for Good to donate through their secure site.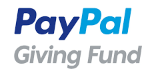 $24 Donation will go into our programs that are designed to help those that are contemplating suicide.  On average 24, Veterans, Active Duty Military, Police or Fire, commit suicide.