JoDee Barnes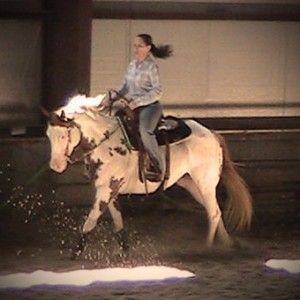 JoDee Barnes started riding horses with her Grandpa when she was 6 months old. As soon as she was old enough, she began formal instruction in both English and Western disciplines, and eventually jumping. Her love of horses led her to begin working for a rodeo. It was here that her talent for training young horses was discovered and cultivated.
This talent for training horses was put on hold while she served her country in the United States Air Force. After her honorable discharge, she attended a technical school for Auto Collision repair. As soon as she was able, she began training and riding again.
While living in North Carolina, she began helping and training at a therapeutic riding center, Wings of Eagles. JoDee studied under the owner and lead instructor for up to 4 classes per day 3 times a week. She quickly realized that helping people learn how to ride even though they have life challenges, was exactly what she wanted to do for the rest of her life.
To fulfill her dream, JoDee enrolled in an Equine Specialist program consisting of: Equine Nutrition, Behavior, Disease, Anatomy, Reproduction, Stallion Management, Equine Marketing, Training Performance Horses, and Equine Facility Management and Design. Throughout the program, she continued to work a full time job, volunteer, and work on developing her business. In 2010, she graduated with honors from Global Equine Academy under Gene & Sandy Miller. The following year, JoDee & her husband Tony went to Farrier school in Wyoming where they learned to trim hooves and shoe horses. Returning from Wyoming, JoDee and Tony started working together honing their horses' skills and began training them to be therapeutic animals.