24 to 0 Project
Our 24 to 0 project addresses the national average of 24 Veterans and First Responders suicides per day and is designed to help reduce that number to 0 in our community. 24 to 0 is focused on offering an additional resource to the normal therapy programs by introducing a horse as the therapist.  Unlike conventional therapy where a therapist asks questions in a four walled office, the therapist (the horse) does not ask questions and sessions are held in a relaxing environment.
With climbing suicide rates among active duty servicemen, Veterans and First Responders, a growing population of Wounded Warriors and soldiers suffering with PTSD, and thousands of Veterans living on the streets that once fought to protect this great nation, providing affordable and free access to horses might just be the solution to many of these problems.  Statistics prove we are on the right track!
Thru 11 months of 2019, we've lost over 482 first responders. 52 firefighters have died in the line of duty, and 114* have died by suicide. 110 law enforcement officers have died in the line of duty and 206* have died by suicide. The suicide numbers are only ones that are reported and verified; that number is undoubtedly higher. 
Your monthly donation of $24 will help provide funding that will allow us to offer sessions to Active Duty Military, Veterans, Police and Fire personnel at no cost.  Having these sessions paid for relieves the stress of the participants and allows the growth of this program to reach others within our community who have experienced traumatic events in their lives.
Please consider a one time or monthly donation supporting this important 24 to 0 project to make a difference in our community. Your donations are tax deductible. 
If you or a loved one would like to visit more about participating in our 24 to 0 project please call us at 402-512-1817 or email info@victoryride.org. We would like to meet you and give a tour of our facility. The horses are ready for some hugs and the coffee is always on.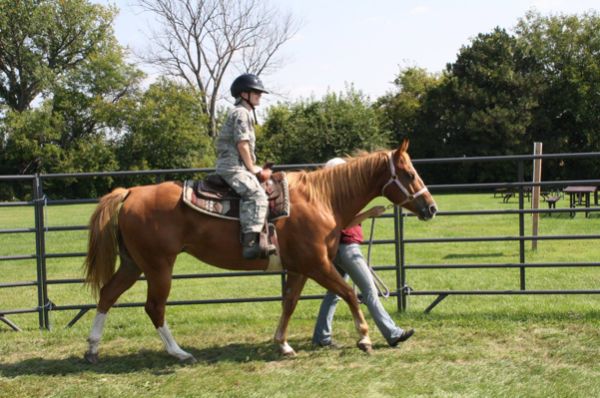 More information about Equine Assisted Activities and Therapy in Veteran's rehabilitation
Equine Therapy / Animal-assisted Therapy has shown to be effective in treating patients, including combat veterans, with PTSD, depression, anxiety, attention- deficit/hyperactivity disorder, conduct disorders, dissociative disorders and other chronic mental illnesses. Journal of the American Medical Association
More than 30 VA Medical Centers are participating in Equine Assisted Activities (EAA) programs all around the US as noted by the Supervisory Recreation Therapist Department of Veterans Affairs.
Horses are highly reactive and mimic human emotions - requiring calm and non-reactive communications which promotes emotional awareness, emotion regulation, self-control, and impulse modulation. Working with horses in a therapeutic setting offers instant and constant feed back to participants, requires physical strength and balance, and is highly motivational – combining to make an exceptionally effective rehabilitation environment.
One of the key reasons horse therapy is successful, is the horse has no expectation from the participant.  This offers a more relaxed and no-pressure atmosphere which results in a significant decrease in PTSD symptoms, improved social functioning, less interference from emotions in daily activities, and increased participation in daily life.  PTSD also results in lack of confidence, trust, acceptance of self and others, and gratitude which horse therapy has been shown to improve all these symptoms.

Facts: Veterans rehabilitation and Equine Assisted Activities/Therapies Post Traumatic Stress Disorder (PTSD)/ Traumatic Brain Injury (TBI)
• About 300,000 Iraq and Afghanistan war veterans suffer from PTSD or major depression,and about 320,000 may have experienced at least a mild concussion or     TBI in combat.  RAND Corp. study released in 2008.
• In 2008 one in four veterans were diagnosed with PTSD, and some experts believe this could increase to one in two by 2011 years end. –PTSD Foundation of America
• 11-20% of Veterans of the Iraq and Afghanistan wars; as many as 10% of Gulf War; and about 30% of Vietnam Veterans have PTSD. –Dept of Veterans Affairs
• PTSD affects about 7.7 million American adults in a given year. NIMH- 2005 National Co-morbidity Survey-Replication study
• An estimated 5 percent of Americans—more than 13 million people—have PTSD.  – Sidran Institute
• Untreated mental health problems among returning troops will cost the nation up to $6.2 billion over two years in medical costs, lost productivity, and lives lost to suicide. A RAND Corporation survey, Invisible Wounds of War: Psychological and Cognitive  Injuries, Their Consequences, and Services to Assist Recovery
• PTSD is often accompanied by depression, substance abuse, or other anxiety disorders as well as physical complaints such as chronic pain, fatigue, stomach pains, respiratory problems, headaches, muscle cramps or aches, low back pain, or cardiovascular problems and can include self-destructive behavior such as alcohol or drug abuse and suicidal tendencies. –Sidran Institute
• While there is no cure for PTSD, early identification and treatment of PTSD symptoms may lessen the severity of the condition and improve the overall quality of life for veterans suffering from this condition. *Veteran's newsroom statistics
• Individuals with a TBI are twice as likely to die as a similar non-brain injured cohort and had a life expectancy reduction of seven years. –Brain Injury Assoc. of America (Harrison-Felix et al., 2006)
• TBI is the leading cause of epilepsy in the young adult population. –Brain injury Assoc. of America
• In the U.S. alone, every year, over 125,000 individuals who sustain a TBI become disabled. –Brain Injury Assoc. of America